TOYOTA GENUINE PARTS
When you bring your vehicle to a Toyota dealership you can be sure that only genuine parts will be fitted. We insist on using only these components to maintain the quality of your model and make sure the repairs will last. Genuine parts are designed & engineered specially for your Toyota and carry a 6 month/10,000km warranty.
Toyota Western Motors provides a complete range to Toyota – Daihatsu Genuine parts at our dealership. We strongly promote and recommend our valued customers to use Genuine Toyota-Daihatsu (Parts & Lubricants) for their vehicles. The use of the genuine parts is a very important thing. The basic reason behind all this is to be the best of the best when it comes to vehicles performance.
Toyota is best for Toyota. Don't be blindfolded by fake parts. They may look the same, but it only takes a single fake part to damage your Toyota or potentially endanger your life. Make the right choice and avoid the fake.
With counterfeit parts, you get exactly what you pay for. They may look same, but the difference in performance is glaring. Fake parts do not conform to the high standards of quality Toyota Genuine Parts are known for. Stay clear of fakes and the danger they bring to you and your Toyota vehicle.

TOYOTA GENUINE OIL
In the same way that we need water to function, or plants need sunlight to bloom, your car's engine needs the protection of motor oil to survive and continue to perform at its best.
Toyota Genuine Motor Oil is a high performance Oil recommended for all Toyota Vehicles to maintain the quality of your Toyota vehicle.
Using Motor Oil that is formulated specifically for your vehicle enhance your engine's performance.
---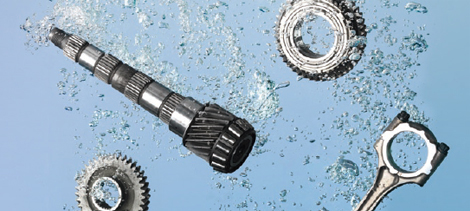 Our engines are designed to provide a lifetime of unrivalled levels of performance, efficiency and reliability whatever the conditions, but to maintain these high tolerances they require regular servicing and the highest quality oil.
Toyota Genuine Motor Oil (TGMO) is the only engine lubricant that has been designed specifically with your car in mind. Unlike other brands, TGMO lubricants are tested and developed extensively in Toyotas to ensure they are the best possible match for your engine's needs.
---
Here are just a few of the ways your engine will benefit from TGMO:
Protection: A strong, thin film of protection allows the engine parts to work together. Without it, the engine would overheat and seize up.
Power: Helps to seal the gap between the piston and cylinder wall, enabling your engine to deliver maximum power.
Economy: Provides smooth functioning of the engine, which reduces the amount of energy that is wasted, giving you more miles per litre.
Reliability: Helps to prevent the formation of deposits, keeping your engine clean and preventing the piston rings from sticking.
Longevity: Neutralises acids such as rust that is created during combustion, eliminating corrosion for a longer life.
Versatility: Gives you confidence that your engine will perform brilliantly in a wide range of weather conditions and driving demands.

---